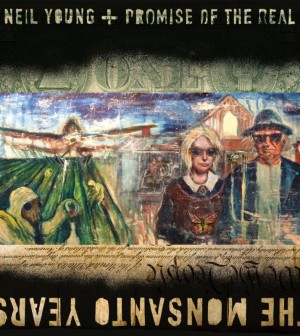 May 26, 2015 – (Burbank, CA.) – Neil Young + Promise of the Real will release a new studio album, entitled The Monsanto Years, on June 29 via Reprise Records.
For this album, Young is joined by Promise of the Real, an LA-based rock band fronted by Lukas Nelson (vocals/guitar), along with Micah Nelson (guitar, vocals), Anthony Logerfo (drums), Corey McCormick (bass) and Tato Melgar (percussion).
The Nelsons have performed with their father, Willie Nelson, and Young on previous occasions. For the first time, they recorded together and will now tour under the banner of the Rebel Content Tour.
The ecologically/environmentally-focused album will be released via all retailers and in the Neil Young Official Online Store. The Monsanto Years will be available in a special CD + DVD package, vinyl, iTunes, and PonoMusic high-resolution audio. The vinyl package will be released in August. Actual date to be announced shortly. Pre-orders begin today, May 26.
Those who pre-order The Monsanto Years, will instantly receive downloads of two brand new tracks from the album: "Big Box" and "A Rock Star Bucks A Coffee Shop."
The video for "A Rock Star Bucks A Coffee Shop" was premiered at DemocracyNow.org.
The Rebel Content Tour featuring Young + Promise of the Real will hit the road kicking off July 5 at Milwaukee Summer Fest.
Along with every ticket purchased online for Neil Young, buyers will receive a choice of the CD + DVD package or digital editions of The Monsanto Years.  (Offer is not valid for festival dates).  Tickets are on sale now.
The Monsanto Years CD Track Listing:
1. A New Day For Love
2. Wolf Moon
3. People Want To Hear About Love
4. Big Box
5. A Rock Star Bucks A Coffee Shop
6. Workin' Man
7. Rules Of Change
8. Monsanto Years
9. If I Don't Know
DVD Track Listing:
1. Big Box
2. A Rock Star Bucks A Coffee Shop
3. Rules Of Change
4. Workin' Man
5. Monsanto Years
6. A New Day For Love
7. Wolf Moon
8. People Want To Hear About Love
9. If I Don't Know
Rebel Content Tour dates:
Sunday July 5 – Milwaukee Summer Fest, Milwaukee, WI
Wednesday July 8 – Red Rocks, Denver, CO
Thursday July 9 – Red Rocks, Denver, CO
Saturday July 11 – Pinnacle Bank Arena, Lincoln, NE
Monday July 13 – Riverbend Music Center, Cincinnati, OH
Tuesday July 14 – DTE Energy Music Theatre, Clarkston, MI
Thursday July 16 – Susquehanna Bank Center, Camden, NJ
Friday July 17 – Bethel Woods Center for the Arts, Bethel, NY
Sunday July 19 – Champlain Valley Expo, Essex Junction, VT
Tuesday July 21 – Jones Beach, Wantagh, NY
Wednesday July 22 – Xfinity Center, Great Woods, MA
Friday July 24 – Wayhome Festival, Oro-Medonte, Canada