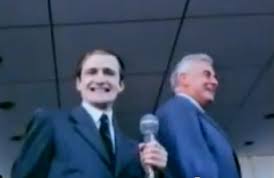 After the one minute's silence at 11.00am this morning I had a browse through YouTube to watch once again the amazing scene of Gough Whitlam's appearance on the steps of Parliament House with none other than Norman Gunston in front of him asking the crowd, 'Is this an affront to the Constitution of this country, or just a stroke of good luck for Mr Fraser?'
It is almost a Woody Allen like moment as the seemingly naiive, bumbling Gunston appears at the height of the nation's gravest constitutional crisis ever. But perhaps this is why the crisis never turned to violence and bloodshed as it might so easily have done in other countries. In spite of everything, we could still take the piss out of ourselves – as one observer remarks in the excerpt from Stop Laughing…..This Is Serious.
What are the chances of any similar character ever again getting close to such an event here (maybe The Chaser crew could do it). You cannot imagine it happening anywhere else in the world.