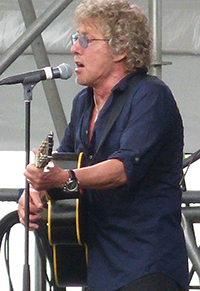 New Orleans Jazz & Heritage Festival – Weekend #1 – April 24-26, 2015
If someone told you that the ideal festival weather was overcast with the occasional thunderstorm you would probably think they were crazy but in New Orleans that forecast certainly beats the heat.
The first weekend of this year's 46th annual Jazz Fest had its share of torrential rain in brief downpours and muddy infields but as a spectator the conditions made for pleasant viewing most of the time. If you planned things carefully and paid attention to the weather app on your smart phone then you could be in the grandstand at the Fairgrounds racetrack or in the blues, jazz or gospel tent when the rains came – which was several times with great force.
Set in the Fairgrounds Racetrack not far from the famed New Orleans French Quarter, Jazz Fest has to be seen to be believed. With eleven stages – three in huge tents – and hundreds of food, craft and beverage stalls this is bigger than just about any other festival; yet, despite crowds of over 100,000 some days, it is surprisingly compact and easy to negotiate (sort of).
Maybe you get used to the crowds after years of attendance and the fact that you can be a long way from an arena stage and enjoy a show because the sound is so good. You also get very adept at making sure you arrive at the blues, jazz or gospel tents in plenty of time (at least half an hour early) to get a seat for your favourite act.
The opening day was shortened by the threat of lightning that meant that Wilco only had 45 minutes to impress. Jeff Tweedy claimed that despite the weather this felt like the best of the band's Jazz Fest shows. He also amusingly claimed, in response to a fan's sign, that the band's motto is 'it could be worse.' That was hardly the case as the brief 10 song set started with 'Handshake Drugs' and included a great version of 'Secrets of The Sea' from Mermaid Avenue II. Later in the evening some of the Wilco members, apart from Tweedy, appeared at a not so secret gig in City Park.
Even Jimmie Vaughan's set in the Blues Tent was cut short by the weather, immediately after he had played 'Texas Flood' and dedicated it to his brother Stevie Ray.
The first afternoon on the main stage had included Johnny Sansone's excellent blues infused rock, veteran Cajun rockerWayne Toups and the Honey Island Swamp Band with a pumping horn section and a much tougher sound.
Then the Tedeschi Trucks Band arrived and blew everyone else away with a stunning set that proved that not only is Susan Tedeschi one of the best blues singers around but that she can certainly hold her own as a guitarist with her partner Derek Trucks (who continues to mature now that his Allman Brothers band excursion is over).
'Made Up Mind' was a rousing set opener, there was a mighty version of Derek and the Domino's 'Keep on Growing.' The gospel-style 'Bound For Glory' got the audience involved and both Trucks and Tedeschi swapped solos.
Of course, 'Midnight in Harlem' is a show-stopper with Tedeschi's voice caressing the ballad but she belted it out on 'The Storm,' a song that she said was inspired by New Orleans and which finished the set with Festival Director Quint Davis rushing on stage and yelling, "You've got to be kidding me!" It was that good.
Keith Urban got good reports for his show on the main stage but by the time he was there I was watching Wilco. Sorry, Keith.
Saturday April 25
Just before The Who arrived on the main stage late on Saturday afternoon the skies cleared. An omen? Whatever, The Who proved to be the highlight of the weekend – at least for my money. We might have been apprehensive about what the band might be like nearly 48 years after the sensational Monterey Pop show that broke them in the USA but those worries were fairly quickly dispelled.
Pete Townshend and Roger Daltrey, the remaining two original members, have recruited carefully with drummer Zak Starkey, bassist Pino Palladino and Pete's younger brother Simon on rhythm guitar. The resultant sound is nothing short of awesome, assisted by a main stage PA system that resulted in pristine sound even at the back of the arena.
There were a few hiccups: the set list had to be adjusted resulting in confusion that meant Townshend started 'Pictures Of Lily' and Daltrey started to sing something else. In the end Pete got his way and they played a minute or so of the song before moving onto a catalogue of their 'hits' that include 'My Generation,' 'Magic Bus,' 'Behind Blue Eyes,' 'Bargain' (from Who's Next), 'Join Together,' 'Love Reign O'er Me' and 'Eminence Front.'
Yet it was the anthemic selections that got the greatest crowd reaction and sing-along's: 'You Better You Bet,' 'Tommy,' Pinball Wizard/See Me Feel Me' and 'Teenage Wasteland.'
All the while, Daltrey's voice edged its limits and struggled at the high notes, while Townshend's singing was rugged but his windmill flourishes on the guitar drew cheers.
Of course, the big test for Daltrey was that scream at the end of 'Won't Get Fooled Again,' which turned out to be the band's last song. It was a splendid version recalling their best days and, yes, Daltrey nailed that scream, much to the delight of the audience. That song alone was one of those 'worth the airfare' moments. Not bad for a couple of old blokes celebrating 50 years in the business.
At the other end of the end of the musical spectrum in the Jazz Tent just prior to The Who on the main stage Cassandra Wilsonsang selections from her new album Coming Forth By Day: A Celebration of Billie Holiday. It was riveting, which was not only a result of Wilson's spellbinding vocals but also because of her band which featured guitarist Kevin Breit, whose playing was innovative and dazzling.
Sunday April 26
There were many treats that I could have enjoyed; Angelique Kidjo (who I was to see later in the evening anyway), local bluesman John Mooney, Bela Fleck and Abigail Washburn following the Savoy Family Band on the Fais Do Do stage (and drawing possibly its biggest ever crowd), Irma Thomas and Allen Toussaint on at the same time at opposite ends of the festival site, legends The Zion Harmonisers and Shirley Caesar in the Gospel Tent. Then there were the 'headliners': Jimmy Buffet and his Coral Reefer Band in the main arena and Tony Bennett and Lady GaGa on the Gentilly Stage (the second arena).
In the end I opted to see Jon Cleary and his Absolute Monster Gentlemen at the start of the afternoon to get my dose of New Orleans funk and then as the weather deteriorated I made it to the Grandstand for some great interviews on the Allison Miner stage. Michael and David Doucet took us amusingly through the history of Beausoleil (on the Fais Do Do a few hours later). Then, talking history, Charles Neville gave us a fascinating lesson about New Orleans music as Rolling Stone magazine's David Fricke teased out dozens of terrific anecdotes. Finally, I caught a little of Delbert McClinton, who debunked the idea that he taught John Lennon everything he knew about he harmonica.
The Deslondes on the Lagniappe Stage then proved that they are following in the footsteps of their friends Hurray For The Riff Raff in an excellent show.
From the vantage point of the grandstand I could see that there was no way I would satisfy my curiosity and get anywhere near Tony Bennett and Ms Gaga or Jimmy Buffett (who was also to pop up later) so my closing act choice for the weekend was Delbert McClinton, who has survived a life-threatening heart attack this time last year to make it to New Orleans this time around.
The second weekend beckons but not before many more gigs, including Bob Dylan at The Saenger Theater on Wednesday.
GIGS
My weekend evenings were spent at Preservation Hall for the Midnight Preserves shows that feature mystery guests who are only announced once the audience of 100 people are inside the small, famous hall.
On Friday night Cassandra Wilson sang one wonderful song before disappearing so that Jimmie Vaughan and members of his tilt-A-Whirl band could join the Preservation Hall Jazz band for a full set. On Saturday evening Tao Rodriguez Seeger also arrived for one song and gave way to a great show by Shovels & Rope. Then on Sunday Angelique Kidjo sang three songs, including a duet with Jimmy Buffett who then took over with members of his band. (He also auctioned off for $2000 a margarita that he personally made to raise money for the Hall!).
Read about the second weekend at Addicted To Noise