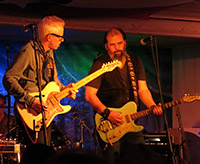 Steve Earle & The Dukes – Gruene Hall, Texas – Friday April 17, 2015
Steve Earle has released a blues album, Terraplane, but that doesn't necessarily mean that he's got the blues. If he does then it's working wonders for his live show.
On the evidence of his 'homecoming' concert in Gruene, not far from where he was raised, Earle is in remarkably good spirits with a terrific new album and a cracking band. Maybe it was the fact that he was near home and had family and friends around but it was as generous a show as you could possibly hope to see from him, or just about anyone (apart from maybe Springsteen). The fact that it was in this famous village hall with a bunch of rowdy Texans made it even more special.
Over the course of more than two hours Earle simply shrugged off with a brief aside his impending divorce (which has obviously inspired some of the new songs) and focused on a brilliant performance that is one of the most impressive I have ever seen him deliver.
Earle claims that this version of The Dukes, which includes The Mastersons – guitarist Chris Masterson and fiddle player/vocalist Eleanor Whitmore – along with stalwarts in bassist Kelly Looney and drummer Will Rigby, is the best band he has ever had. It is hard to disagree – and that's saying a lot given that Buddy Miller, Eric Ambel and Bucky Baxter have passed through the ranks.
The latest outfit, however, is able to deal with the old and new songs with equal facility. The Mastersons showed off their own talents early, opening the evening with a half-hour set that included songs from their latest, impressive album Good Luck Charm.
While he has recently turned 60, Earle's enthusiasm seems undiminished as he raced through a 30-song set that stretched out to just over two hours. Of course, he has developed an impressive catalogue of songs from which to draw on and, while he always tips his hat to his idols such as Townes van Zandt, I reckon that his own song writing prowess places him fair and square alongside most of those idols.
The confidence that Earle has in his latest album is shown in the fact that he performed almost every song from it (apart from the acoustic 'Gamblin' Blues) and opened up the set with four in row: 'Baby, Baby, Baby, (Baby)', 'You're The Best Lover That I Ever Had,' Ain't Nobody's Daddy Now,' and 'Baby's Just As Mean As Me' (with Whitmore dueting).
As a contrast, he then reached back to his first album for 'Someday' and 'My Old Friend The Blues' from his debut album Guitar Town plus a hard rocking version of the title track, followed by 'Copperhead Road.' He has learned to get the 'hits' out of the way early, where others less adventurous might have saved them for the encore.
A beautiful reading of 'Can't Remember If We Said Goodbye' (also the title of Earle's forthcoming memoir) helped to change the pace and led into 'Sparkle and Shine,' after which he picked up the mandolin for 'Galway Girl.'
Later, 'South Nashville Blues' gave way to 'Cocaine Cannot Kill My Pain' and then a powerful, thumping version of Howlin' Wolf's 'Forty Four' leading into four more songs from Terraplane: 'The Usual Time,' the ZZ Top inspired 'Go Go Boots,' 'Better Off Alone' (surely there's a message in there somewhere?) and 'The King Of The Blues.'
The main set finished with a roaring version of 'Hey Joe' and, as if twenty three songs were not enough, Earle and the Dukes returned for an impressive seven song encore that started with 'Remember Me,' dedicated to Earle's young son, John Henry. Earle noted that his son had autism but had good care and was being helped by his neighbours. ('I don't make as much money as you think," he said).
Apart from a grungy version of 'The Revolution Starts Now', there was also the inclusion of some intriguing covers: Donovan's 'First There Is A Mountain,' The Band's 'Rag Mama Rag' (Earle has just sold his house in Woodstock and dedicated this to Levon Helm) and the closer, 'Wild Thing', performed Hendrix-style with Chris Masterson cutting loose on lead guitar and Earle leaving the stage amid a squeal of feedback.
If this is Steve Earle with the blues, let's hope he has them for a long time to come!